As 2013 comes to a close, it's time to look back at the big energy stories of the year. Here's my top 10 stories from 2013…
1. Japan taps methane hydrates with explosive implications for the future of global energy supplies.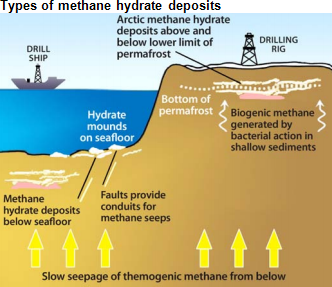 The Japanese Ministry of Economy Trade and Industry announced in March that a team aboard a drilling ship pearched above the Eastern Nankai Trough had extracted methane gas from hydrates trapped 1,000 feet below the sea floor surface. Methane hydrates, also known as clathrates or "fire ice," are deposits of natural gas trapped within the crystaline structure of frozen water. The extraction of usable gas from undersea methane hydrates in 2013 was a world first, a breakthrough step towards tapping a potentially massive new alternative source of natural gas. Estimates of the scale of hydrate resources range from 10,000 trillion cubic feet (TCF) to more than 100,000 TCF—the equivalent of anywhere from 50% more to 15 times more natural gas than all global shale gas deposits combined. While commercial extraction of methane hydrates is still many years away, the potentially enomormous implications for global energy supplies—and efforts to confront global climate change—are worth pondering today. Read more.