Following fast on the heels of NASA reporting the hottest January to November on record — despite the deepest solar minimum in a century — NOAA's National Climatic Data Center has released its State of the Climate: Global Analysis for November. It finds this was the second warmest November on record (after 2004) and
For the 2010 year-to-date (January–November), the combined global land and ocean surface temperature was 0.64°C (1.15°F) above the 20th century average—the warmest such period since records began in 1880.
The November 2010 Northern Hemisphere land and ocean surface temperature was the warmest November on record….
The November 2010 global land surface temperature was the warmest on record, at 1.52°C (2.74°F) above the 20th century average…
It may have been cold in Great Britain, but NOAA's November chart shows that over most of the NH land it was hot, hot, hot:
Heck it's still raining in Greenland!
And so Arctic sea ice extent has drifted off to a record low for late December as the stunning charts from JAXA (above) and NSIDC (below) reveal: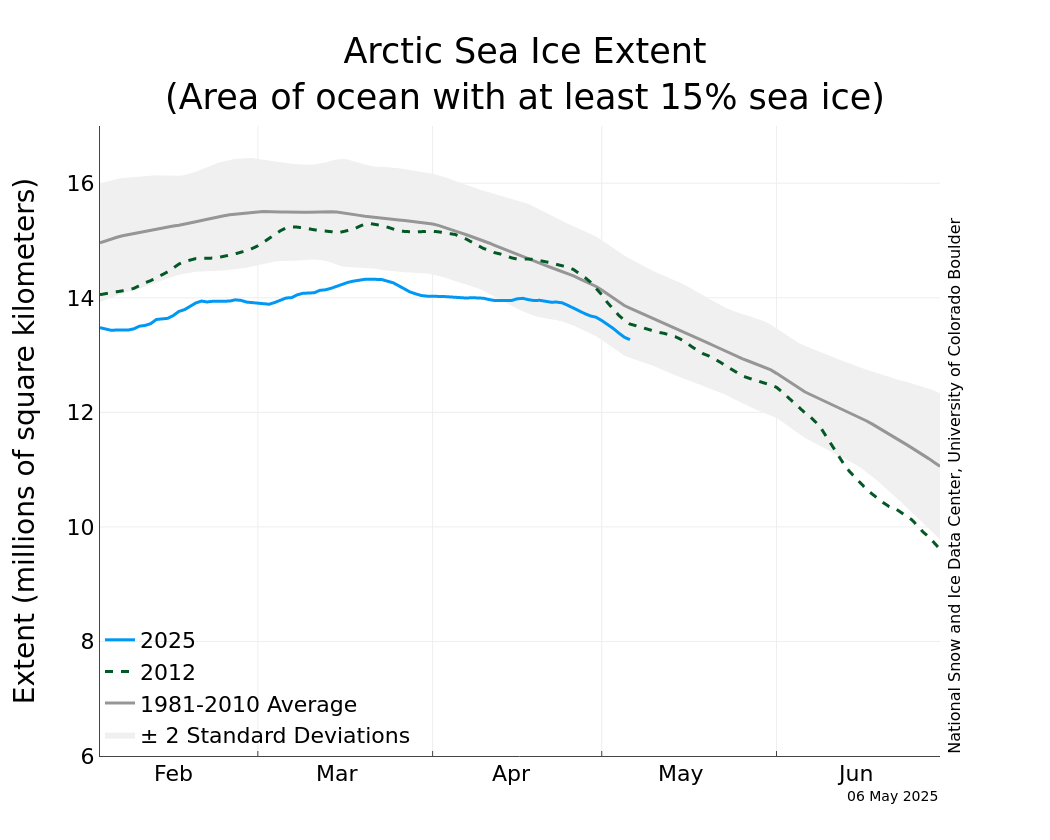 Wow!
Relatedly, The Hill has a story, "Scientist: Climate change to intensify winter weather," but it isn't just any scientist:
This weekend's massive blizzard in the Northeast has fueled the fire of climate skepticism that's pervasive in many parts of the United States. If we're still getting major winter storms, skeptics say, how can the planet be warming?

E2 Wire put that question to Tom Peterson, chief scientist at the National Atmospheric and Oceanic Administration's National Climatic Data Center.

Peterson said the latest climate change data indicate increases in global temperature result in more intense weather events, including winter storms.As the planet warms, "frequency of storms will stay the same, but the intensity will increase," he said.

"Multiple peer-review papers indicate that strong storms are likely to increase. So the climate change is changing the probability of a strong storm occurring," he said.

Peterson warned that you cannot determine whether climate change is occurring based on an individual weather event. Instead, scientists study climate trends over the course of thousands of years.

"Weather events are pixels in the climate picture. Some are indicative of changes we are experiencing; some simply reflect the variability of weather and climate. As the world continues to warm, heat waves are an example of the former," he said, while adding that extreme winter weather events are "examples of the latter."
But don't read The Hill's comments' section without a head vise!