For more than two decades CEA has been tracking the evolving views of electricity customers in Canada on a range of issues. Just like other industries, we need to know our customers and their expectations for service. Up until this year, we used telephone surveys, working with some of the leading opinion and market research firms, to measure customer views on a wide range of issues including service satisfaction, price sensitivity, support for infrastructure investments, and the environment. This year, we moved the survey to an online instrument, and working with the research firm IPSOS Reid, we recently completed a comprehensive snapshot of the views and concerns of Canadian electricity consumers.
Looking back over two decades of public attitudes survey results – this vast mine of information on how the customer sees our industry and our issues – it strikes me that in some cases, very little has changed, whereas in other areas, the changes have been radical to say the least. In this post and in a couple of subsequent posts, I will discuss three issues where the customers' views have been both consistent and at the same time, quite volatile. The issues are public acceptance of infrastructure, rising concerns about the price of electricity, and the changing price/environment/reliability equation.
The International Energy Agency, based in Paris, estimates that Canada will need to invest approximately $CAN 237 billion in its electric power generation, transmission and distribution systems by 2030 to replace ageing assets and meet growing electricity demand. The challenge, from a public perception and thus a public policy standpoint, is that the public is accepting of certain types of infrastructure, but not of others. The gap between the two results in a gap in the electricity value chain, from the generation of a kilowatt to the end use by the customer.
With respect to generation, we have been tracking public preferences on the next new megawatt-hour of electricity. Not surprisingly, there is a marked preference for what are seen to be the greener options; near unanimous support for alternatives such as wind and solar, hydro, and distributed generation as well as meeting future demand through energy efficiency and conservation. While Canadians are evenly split on nuclear, natural gas generation or importing from another province, there is significant opposition to coal or oil-fired generation and to importing electricity from the United States, although Canadians don't seem to mind keeping their own rates lower because of earnings from exports.
When it comes to specific types of infrastructure being sited near where people live, we have found strong opposition to coal-fired generation, landfill sites, nuclear generation facilities, and trash incinerators. An equal number of Canadians support and oppose electricity transmission facilities near where they live. However, there is strong support for two types of infrastructure we probed: water filtration plants and wind facilities.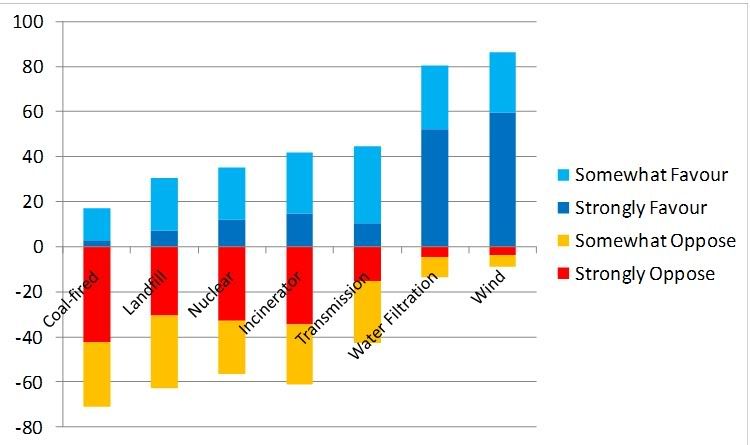 The challenge for the industry is how to bridge what I call the "infrastructure understanding gap." This gap is evident when comparing the level of support for wind and hydro with the significant opposition to the transmission facilities which are required to bring the electricity generated to the customer. We have seen this same gap in understanding in the research we have conducted for our public education initiative, and it continues to inform our work as we seek to further foster public understanding of the need for infrastructure investments in order to meet customer expectations for reliable, safe, secure, sustainable and competitively priced electricity.
Pierre Guimond
President and CEO
Canadian Electricity Association