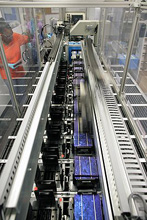 Canadian Solar announced today that it plans to establish the country's first solar module manufacturing facility in Guelph, Ontario, just an hour or so northwest of Toronto. The new facility will be capable of making 200 megawatts of solar modules a year and will create 500 new jobs for the region. The announcement wasn't a surprise. Canadian Solar told me shortly after Ontario's feed-in-tariff program was launched that it planned to establish manufacturing here to comply with the province's local content rules. But the commitment, now official, brings good news to a government trying to justify the high prices ratepayers will end up paying for solar, wind and other clean energy sources under the feed-in-tariff program.
There was more positive job news the day before, when Germany's Siemens AG announced plans to build a wind-turbine blade factory in southern Ontario — the first in the province — as part of a deal to supply 600 megawatts worth of wind turbines to Samsung C&T, which under a deal with the province of Ontario has agreed to develop 2,500 megawatts of wind and solar projects (2,000 MW of it wind) by 2016. "The implementation of this agreement will create up to 300 'green collar' jobs and up to an additional 600 construction and indirect service jobs over its term," according to a press release announcing the deal. Like the Canadian Solar announcement, we knew it was coming (even though we didn't know Siemens would be involved) but it's nice to finally see some specifics related to job numbers and the kind of manufacturing that will take place.
Here's the government's press release, which — no surprise — touts both the Canadian Solar and Siemens announcements and claims that FIT contracts issued to date mean thousands of new jobs. "The 694 clean energy contracts already announced are expected to create approximately 20,000 direct and indirect green economy jobs over five years and about $9 billion in private sector investment," it reads. Of course, once your start throwing in "indirect" jobs you can pretty much make up whatever numbers you want. Still, there's a buzz in Ontario and despite some fumbles — such as the lowering of the price for small ground-mount solar systems, which has created a political shitstorm — we are seeing substantial investments (or commitments to invest) in the province. We'll have a better sense of the true numbers after the first quarter of 2011, when many of these new facilities are expected to be operational and when stricter local content rules for solar go into effect — that is, when local content requirements for solar projects less than 10 kilowatts in size jumps from 40 to 60 per cent, and for larger solar projects from 50 to 60 per cent.
Last week, Austrian electronics company Fronius International announced it was establishing a solar inverter manufacturing site in Mississauga (just west of Toronto) that would produce 50 megawatts of inverters annually and, once operational by the end of the first quarter 2011, will employ about 100 people. "Ontario is one of the most important markets of the future for Fronius," said Romuald Goure, managing director of Fronius Canada.
Earlier in the year — in March – microinverter maker Enphase announced that contract manufacturer Flextronics would establish a production line in Ontario that would have a capacity of 100 megawatts a year, with a plan to double that by the end of 2011. India's Solar Semiconductor is setting up a module manufacturing facility in Oakville, Ontario, with plans over the next two years to create more than 200 full- and part-time jobs. Others that have announced plans to come include Sunlink, a maker of solar roof-mount systems, and Grape Solar, which is trying to set up a local manufacturing consortium composed of U.S. and Chinese suppliers.
Meanwhile, Bosch Solar Energy and Sustainable Energy have committed to developing a roadmap to build modules and inverters in Ontario that would meet 2010 and 2011 domestic content thresholds. They were targeting installations of between 10 and 15 MW for 2010 and between 50 and 75 MW for 2011, though I'm not sure how this "roadmap" has materialized. Of course, we're still waiting to hear if Vestas will make a move in Ontario by setting up offshore wind turbine manufacturing.
If anyone in the industry knows of other manufacturing plans that I haven't mentioned here, please let me know.